Hey Everyone!
I have the BEST news EVER!!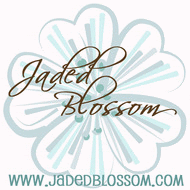 What's that you say???
OH YES!!
I have been one of the lucky applicants
chosen to join the Design Team for
YAY! This is the most exciting news ever!
Those of you who know me and watch my videos
know that I use Jaded Blossom stamps and packaging
on a lot of my posts...so you can only imagine
in January...
YAY! Congratulations to me and
all of the other new designers that
I will have the pleasure to work with
In case you didn' t know,
Jaded Blossom is celebrating their
1st Birthday and they have
the most awesome Birthday Stamp
release blog hop going on right now..
Check it out!
HERE!
Thank you Candace and Michelle
and the entire Jaded Blossom DT
I'm thrilled to be working with all of you:)